Sorrowful Angels is a Greek band with a combination of influences which forms the foundation of their Dark Heavy Rock power.
The idea of forming Sorrowful Angels was originally in 1999, but it was in December 2008 that Sorrowful Angels decided to share their music worldwide.
 In 2009 they signed a record deal with Sleaszy Rider Records, entered CFN Recording Studios and recorded their brand new material; making a very dynamic debut at that.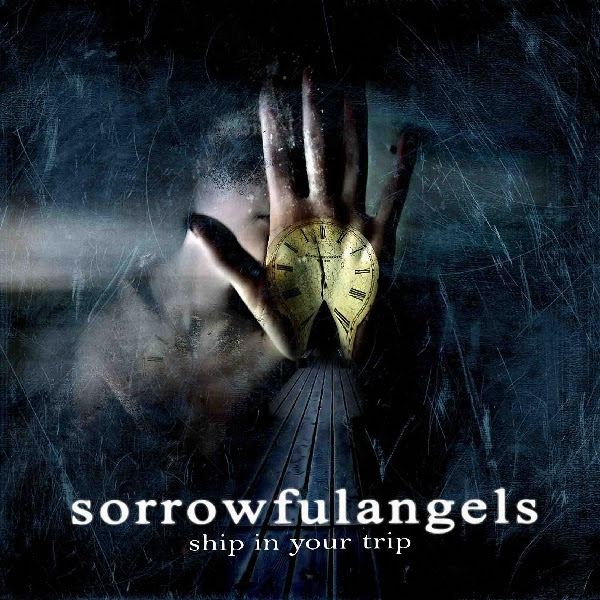 Their first full length album "Ship In Your Trip", contained 10 dark, brooding, melancholic songs. Sorrowful Angels soon started  landing gigs in the Greek and European underground scene, making appearances on national TV stations and giving interviews to the press, sharing their thoughts and presenting their initial atmospheric material which reached the Top 50 of Greek radio airplay.
Along with the recordings, their first official video clip  "Denial" was created and directed by Bob Katsionis (Firewind, Outloud).
At that time they were also personally chosen by legendary Claus Meine (Scorpions) to enter the final round of the Scorpions Contest held in Greece. It was the first time ever in the country that a Gothic Rock/Metal band had received such an honor.
Later that year, a special EP containing 5 tracks from their debut album and their video clip "Denial"  was made and packaged along with Metal Hammer's (Gr) October issue giving the band extensive promotion.
In February of 2010, Sorrowful Angels were voted by the readers as one of the 5 most important and promising heavy metal bands in Greece's Metal Hammer annual poll.
In June 2010 they released their second official video clip "Suicidal Manners" from the album ''Ship in your Trip'' directed by PLAYS2PLACE Productions.
At the request of Swedish band Code 64 Sorrowful Angels worked on their Digital EP "Deviant" which was released by Progress Productions in August 2011
Sorrowful Angels then entered the studio once again and started recording their second album "Omens" at CFN Recordings Studio , which was released on December 2011 by Warner/Legend music.
"Omens" maintained the melodic elements of the 1st  album while broadening their musical pallet, focusing more on electronic elements and phonetic experimentations.
RawRec Productions released the official video clip for the song "Right Of Way" .
During 2012 the"Omens Over Greece" Tour took place. For over a year and a half , the band constantly played gigs in order to promote the "Omens" album.
Since then, SA has shared the stage with many notable acts such as:Paradise Lost, Katatonia, Moonspell, Paul Di Anno, Annihilator, Kreator, Behemoth, Decapitated, Sirenia, Anathema, U.D.O., Rotting Christ, Septic Flesh, Star Industry and many more.
During 2013, Dionisis Christodoulatos became a live member of Classical, Opera and Vocal Orchestra "Chaostar" (consisting of members of Septic Flesh), taking over piano and keyboard duties in the band.
Later the same year, the band announce their first tour with Paul Di'Anno. Between 2013 and 2014, Sorrowful Angels toured extensively in Greece and the Balkans with Paul Di'Anno as both his band and support group. During the second tour bassist Ilias Bouzeas, left and Johny Litinakis took over.
During winter of 2014, the band announced a special unplugged gig organized by Trailblazer Records, where frontman, Dion Christodoulatos, would play for the first time the piano instead of electric guitar. For the promotion of this project , the band released in January, an acoustic version of "Omens" song as a digital video single.
In July 2014, Sorrowful Angels Participated at Italy's Total Metal Festival along with Kreator,Behemoth and Decapitatedamong others.
Shortly after they are requested by Metal Hammer GR, to record a cover of Pink Floyd's "Time" from The Dark Side Of The Moon. The track was part of "Landing on the Dark Side of the Moon" album , essentially a tribute to The Dark Side of the Moon. [24].
In the 15th of November, Sorrowful Angels opened for Diary of Dreams in Athens. This was the last live performance of drummer Chris Stratigos with the band. A few weeks later, the band used footage from that show combined with new audio recordings and released an official videoclip called "Suicidal Manners (Revisited)". This was the first single under their new label Rock Of Angels Records
In 2015 , Sorrowful Angels, announced their signing with Rock Of Angels Records (Roar) to release their third full length album, entitled "Remedie". The official release date was set for October 2015.
Two dates were announced to present their new material live, before it's release. September 4th at Rock on The Beach Festival and September 6th supporting Bonfire.